En el mes de Octubre de 2014 en Tecnomatrix hemos implementado el visualizador WorkXPlore 3D
para mejorar la comunicación entre departamentos. Este visualizador y analizador de archivos CAD es el software más potente, veloz y completo disponible en el mercado hoy en día. Nada menos y sin petulancias. Es efectivo.
Como bien se describe en su página web, "WorkXplore 3D es conocido por poseer una potente combinación de funciones completas, una alta funcionalidad global y una velocidad increíble."
Esta iniciativa se enmarca dentro de la estrategia de order essay mejora continua que se está implantando dentro del programa interno de Tecnomatrix. Por un lado buscamos mejorar los procesos internos entre las diversas divisiones
de la empresa y por el otro lado queremos optimizar la comunicación y el
servicio que ofrecemos al cliente.
El visualizador es un instrumento más que Tecnomatrix ofrece dentro de su portfolio de canales de comunicación,
que también incluye este female viagra with alcohol blog (www.measurecontrol.com), la página web (www.tecnomatrix.com) y Tecnonet. Sin nombrar las redes sociales, en donde estamos presentes desde principios del 2010.
La idea inicial de incorporar
un visualizador surge por la necesidad de una accutane blood test mejor comunicación http://cialisonline-rxpharmacy.com/ en Tecnomatrix entre sus divisiones y por ende con sus clientes, especialmente durante la cotización de nuevos trabajos y durante el desarrollo de un nuevo diseño. WorkXPlore nos permite que el Departamento Comercial pueda abrir todo tipo pharmacy online free postage de ficheros y geometrias directamente en su formato nativo. Sobreponer y contrastar geometrias, analizar, medir y seccionar cualquier elemento y añadir anotaciones para poder ser comentadas.
Desde su implementación, WorkXplore está convirtiendose cetirizine and viagra en una herramienta escencial para el día a día de la empresa. Adicionalmente, el resto de departamentos involucrados en la fabricación,
también puedes rx pharmacy consultar las geometrias de cualquier
proyecto en curso. El departamento de planificación puede hacer su best online casino previsión
de horas más correctamente y
el android phone use tracker departamento de compras http://viagrageneric-onlinerx.com/ puede generar todos los ficheros para subcontratar trabajos. Ajustadores, fresadores o metrologos disponen de información de proyectos y posibilidad de generar los ficheros necesarios para los software de
medición dimensional.
accutanegeneric-reviews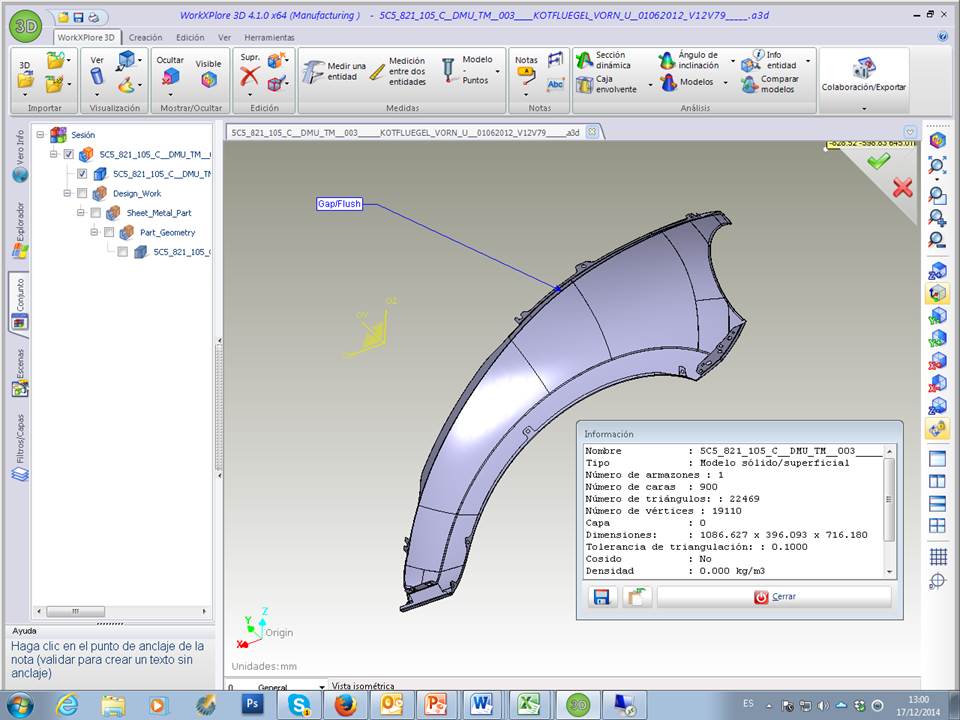 El programa es compare viagra cialis levitra side effects muy fácil de utilizar, rápido y está diseñado para permitir a los usuarios que no son expertos en CAD explorar cualquier tipo de archivo CAD 2D/3D.
El visualizador está desarrollado específicamente para best online canadian pharmacy facilitar la cymbalta colaboración y aumentar de manera what time does publix pharmacy close espectacular la productividad y eficacia durante todas las etapas del desarrollo de productos como: el diseño, el desarrollo de procesos, fabricación, calidad, ventas y comunicación con clientes, documentación de los productos y muchas otras más facetas.
Esto es sólo una continuación…
El visualizador forma parte de un proyecto ambicioso. Estamos preparando más funciones, algunas de las cuales prometen ser bastante innovadoras, y que ya os iremos contando. Como siempre, estamos encantados de escuchar vuestras propuestas para mejorar este nuevo servicio que en el
poco tiempo de vida que tiene ya está dando resultados. Todo gracias a http://cheapcialisonline-maxhq.com/ la inventiva, cooperación e ingenio de todos los involucrados.
Para terminar
les deseamos un tiempo navideño sin estrés, con visualizadores en todos los ámbitos: laborales, técnicos, personales … eso sí siempre con online casino TECNOMATRIX!!